Our Senior Leadership Team
The International Secretariat has an annual budget of approximately £60 million, and employs approximately 530 staff, of whom around 400 are based in London and the rest at other offices around the world. The International Secretariat is funded primarily by contributions from individual donors in national Sections, which have an aggregated global income of approximately £190 million per year.
The International Board appoints and directs our Secretary General. The Secretary General is the operational leader of Amnesty International and Chief Executive of the International Secretariat, which carries out the majority of our research and campaigning work. They are the chief spokesperson for Amnesty International and the principal political advisor to the International Board and the Amnesty International movement, as well as being its chief strategist.
Reporting to the Secretary General, Amnesty International's Senior Leadership Team is responsible for the leadership and sound management of the International Secretariat. This Senior Leadership Team works closely with the directors and deputy directors of the International Secretariat's programmes, and together they provide strategic direction, operational management and direct support to the staff and volunteers of the International Secretariat. These staff and volunteers and those of Amnesty International's national branches are the most important resources that Amnesty International has in its work to defend and promote human rights globally.
New Senior Leadership Team structure, introduced in March 2014: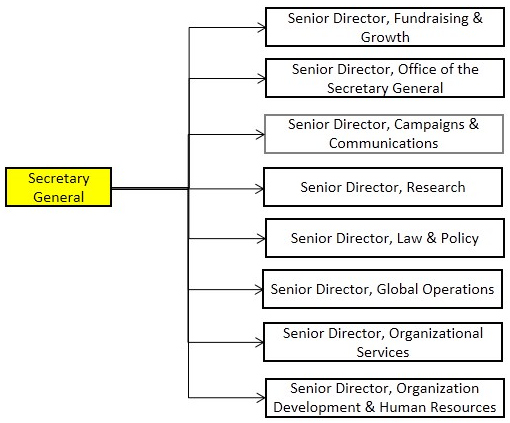 For further information on our current Senior Leadership Team members please go to http://www.amnesty.org/en/who-we-are/our-people/international-secretariat-directors